Karen Hackenberg Monograph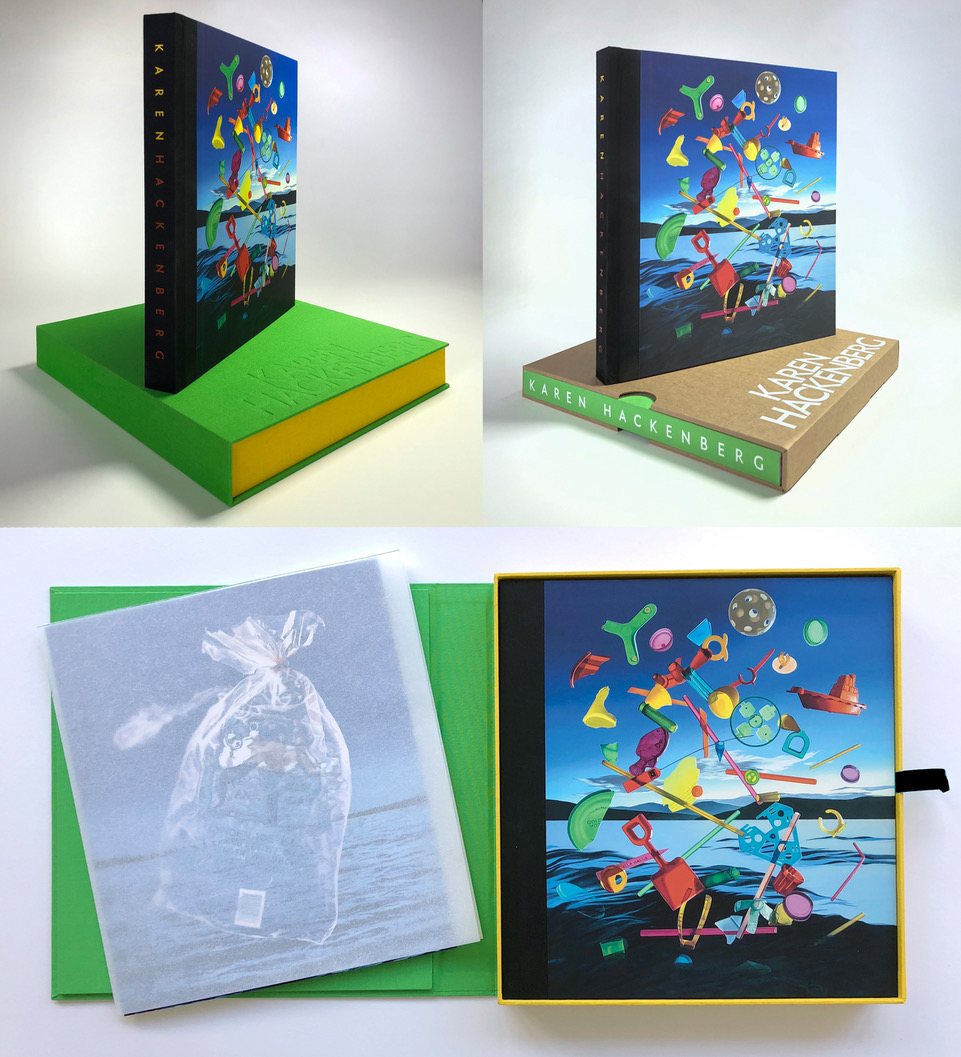 Karen Hackenberg Monograph
"Karen Hackenberg's paintings are no less than perfect images of an imperfect world."
Port Townsend School of the Arts is pleased to present a new monograph by Karen Hackenberg, environmental activist and realist painter. This beautifully printed, limited edition art book features a significant portion of Hackenberg's oeuvre; a light-hearted yet subversive approach to the serious subject of ocean degradation, and a tongue-in-cheek taxonomy of imaginary post-consumer creatures of the sea.
The monograph was published in luscious full color at LenoirSchuring Amsterdam, and in two versions, a soft cover with dust jacket in
a distinctive slipcase, and a uniquely designed articulating hardback that allows for the equally distinctive lay-flat binding that eliminates the gutter of a two page spread.
Note: Price includes sales tax. Shipping within the U.S. is $10.
ABOUT THE ARTIST
Born in New Jersey and raised in rural Connecticut, Karen Hackenberg developed her first connections to the natural world on the shores of Long Island Sound. She earned her BFA in painting from the Rhode Island School of Design and upon graduating moved west, currently making her home in Port Townsend.
Hackenberg has exhibited extensively in museums and galleries around the Northwest and across the nation. Her paintings were recently chosen for the noteworthy Northwest Art Now biennial exhibition at Tacoma Art Museum highlighting the intersection of identity, social justice, and environment. Bainbridge Island Museum of Art hosted Hackenberg's 2015 solo exhibition, and her museum group exhibitions include Neo Naturalist at Museum of Northwest Art; Stilleven: Contemporary Still Life at Hallie Ford Museum of Art; the ocean-themed exhibition Beneath the Surface: Rediscovering a World Worth Conserving, A.A.A.S, Washington, D.C.; and the national traveling museum exhibition Environmental Impact, next on view at the James Museum in St. Petersburg, Florida.
Hackenberg's green sensibility has earned a place for her work in many public and private collections including the Portland Art Museum, OR, Tacoma Art Museum, WA, Washington State Public Art Collection, WA, King County Portable Works Collection, WA, New York State Museum, NY, and Hallie Ford Museum of Art, WA.
Karen Hackenberg is represented by Patricia Rovzar Gallery, Seattle WA, and Clark Gallery, Lincoln MA.