Found Object Mythology- Creating Lore and Legends from the Everyday: A Workshop with Michael deMeng, October 17-19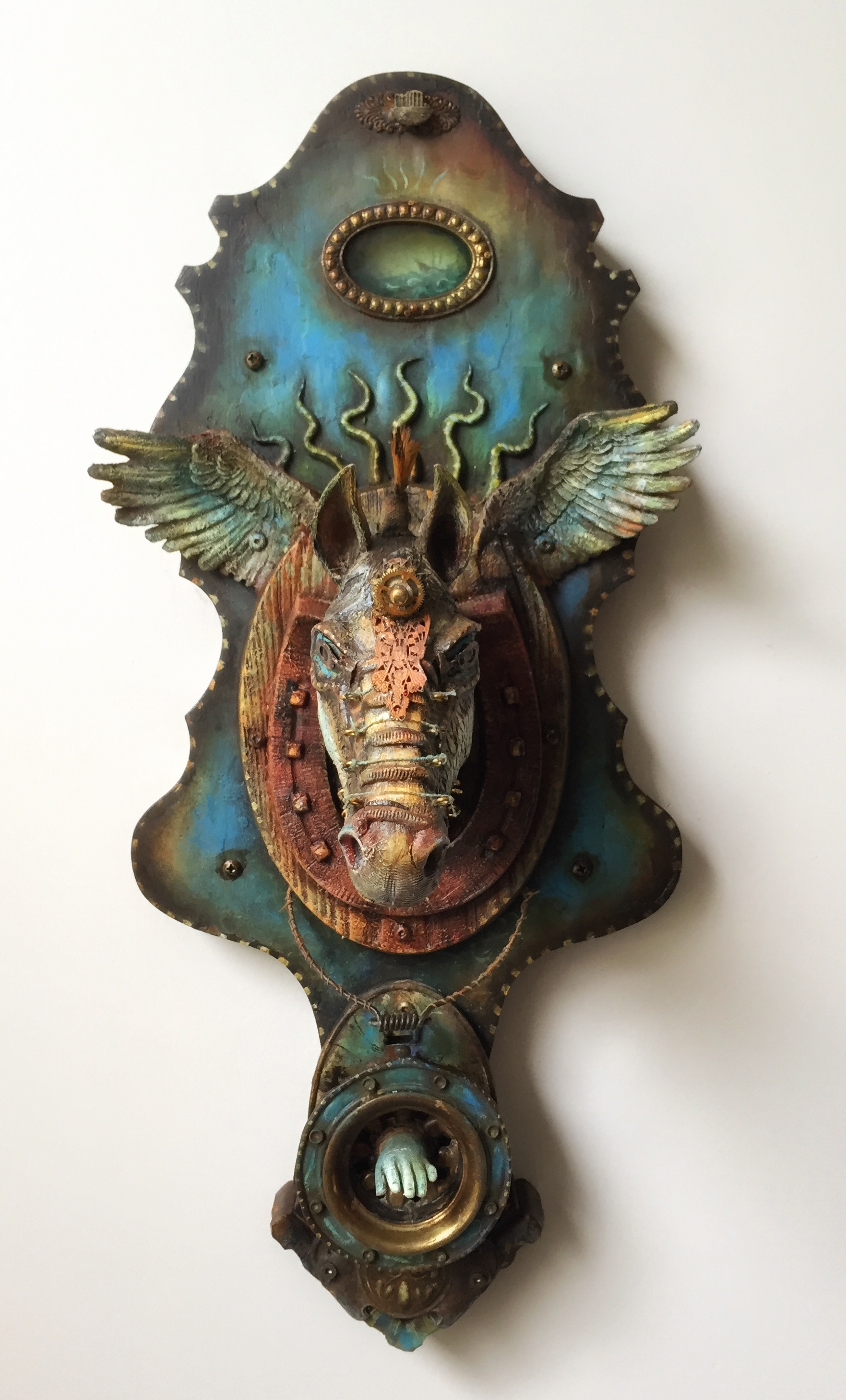 Found Object Mythology- Creating Lore and Legends from the Everyday: A Workshop with Michael deMeng, October 17-19
THURSDAY-SATURDAY, OCTOBER 17-19, 10 AM-4 PM
Class Description:
Of all the things in this wide, wild world, I have found myths and legends to be the most inspirational source material. My first introduction came in movies like Sinbad and Jason and the Argonauts--stop animation films filled with wondrously strange worlds abounding with odd entities such as multi-armed deities, cyclopean beasts, and snake-headed gorgons. After that I was hooked. I read everything I could on the topic…no matter the culture. Many years later as an adult, I am still drawn to these concepts. Artistically, I have found these tales wonderful springboards for creativity. After all, artistic expression like many heroic tales is a journey into the unknown; the artist's job is to go to secret land and retrieve something magical to share. So your task for this class is to pick a myth or legend…any myth from any culture (preferably one that inspires or fascinates you). Next, using found objects and discarded toys, you will create a piece of art that embodies the tale of your choosing. You could focus on a character (like Zeus or Shiva or Quetzalcoatl) or tell a story (like Pandora's box). As for presentation I will leave it up to you…it could be a free-standing sculpture, or something that hangs on the wall. You definitely want to come to this class…otherwise you'll be myth-ing out.

Supply List
● Aves Apoxie Clay ¼ lbs or more (contact www.avesstudio.com if you have any problem locating this product. They sell direct or will tell you about local suppliers)
● Variety of other found objects that might be interesting symbolic additions to myths. Items like watch parts, gears, typewriter parts….just about anything, really. Look for things that are interesting shapes or designs, but also things that might have symbolic significance.
● Old figurines or doll parts- if you're creating characters like Medusa etc, you may want to use old figurines or dolls as the base for you to alter.
● Paint Brushes (a couple small detail brushes, and some cheap brushes (1/2 inch to 1 inch in size)
● Paints: Acrylic (Golden brand -preferably fluids – the tubes and jars will work too, the colors are the key) Quinacridone Nickel Azo Gold, Titanium White, Carbon or Mars Black, Van Dyke Brown, Pthalo Blue, Brown Iron Oxide. Optional Paints: Nickel Azo Yellow, Azurite Hue, Quinacridone Magenta, Permanent Violet
● E6000adhesive
● Optional Things to bring: Heat gun, Dremel with cut off wheel and engraving bit
NOTE: Olympic Art & Office and Quimper Mercantile offer 10% discount for PTSA students.
ABOUT MICHAEL
Michael deMeng is an assemblage artist from Vancouver, Canada who exhibits throughout the United States. As an educator, he has been actively involved with VSA Montana, providing art education and encouraging participation in the arts to people with disabilities. Through these activities, as well as his artwork, deMeng fosters community awareness, and offers creative methods to explore the human experience. In his art, he addresses issues of transformation. Discarded materials find new and unexpected uses in his work; they are reassembled and conjoined with unlikely components, a form of rebirth from the ashes into new life and new meaning. These assemblages are metaphors for the evolutions and revolutions of existence: from life to death to rebirth, from new to old to renewed, from construction to destruction to reconstruction. These forms are examinations of the world in perpetual flux, where meaning and function are ever-changing. contact: mdmuerto@gmail.com Michael's Website: CLICK HERE
Visiting from Out-of-Town?
PTSA invites you to explore lodging right here at Fort Worden, just steps away from our classrooms in Building 306. Keep in mind that summer is high season in Port Townsend, and accommodations sell out quickly.
Click Here: Stay at Ford Worden
There are also a number of hotels, inns, and bed-and-breakfast options in the heart of Port Townsend, about a mile from the Fort Worden Campus
Click Here: Port Townsend Accommodations
REMEMBER MEMBERS: You get ten percent off this class! Use your discount code at checkout. To join, CLICK HERE.